Unprecedented numbers of Dorking residents will travel to London to take part in what is expected to be the biggest non-violent civil disobedience protest in history.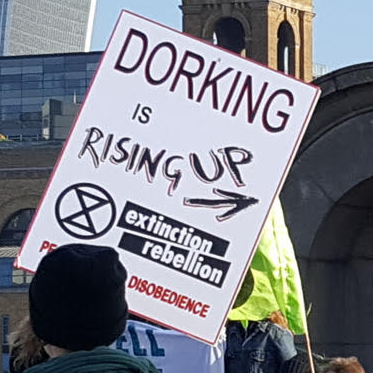 The two week action, organised by environmental group Extinction Rebellion, will be staged across several sites in London.
The protestors are calling for urgent action to address the climate and ecosystem crisis facing humanity.
Those protestors from Dorking will be based at Whitehall, where they will focus on Extinction Rebellion's 'third demand' for the creation of a Citizens' Assembly made up of randomly selected citizens with the power to take action to bring about the emissions reductions and ecosystem restoration, free from the pressures of party politics and powerful corporate lobbyists.
Similar action is planned in cities worldwide as concern mounts about global inaction on climate change and ecological collapse.
Dorking resident Sarah Hayward, 42, mum of two and marketing consultant, said she felt compelled to take part in the London action because of her concern for her children's future.
"If we do nothing, our current policies will see us reach somewhere between 3-4 degrees warming by the end of the century.
"As things stand now, at just under 1.5 degrees, we're seeing extreme heatwaves, droughts, floods and wild fires, so 3-4 degrees is utterly terrifying.
She added: "I'm doing this so my children and all the younger generations don't have to face starvation, thirst, war and conflict. And so they don't have to make the impossible decision not to bring more children into the world."
Local vicar Reverend Helen Burnett said that she valued the emphasis Extinction Rebellion places on the spiritual, as well as the physical impact of the climate emergency.
She added: "I see people overwhelmed by grief for what we have lost, I see the poorest suffering the most and I see what happens when people feel impotent in the face of a sixth mass extinction.
"If I look to the gospels I see a pattern of non-violent resistance and a pattern of disruption of the status quo that is part and parcel of Jesus ministry.
"Although it is scary, I know I must step out into the unknown on Monday morning but I know I will not be alone and that those with whom I stand are people of huge integrity and determination who are filled with love for humanity and for our beautiful planet."
The Whitehall site will welcome activists from across the South-East, with many planning to camp in roads despite anticipated cold weather.
Many activists from Dorking have indicated a willingness to be arrested.Local environmental conservation specialist, John Blewitt said: "I am going to London on 7 October and I am willing to be arrested out of desperation at the lack of acknowledgement of the environmental crisis we are in.
"I am also willing to be arrested in the hope that people no longer see us as a fringe movement but something they all feel they can be a part of.
"I believe many people are as concerned about the situation we are in but as yet have not been able to take a step. I want us to become so mainstream and accessible that the step becomes easy.
"A year ago I never thought this would be remotely possible but, incredibly, I now think it is."
Others are heading to London to help in other ways, such as providing food, holding placards, or simply adding numbers to the crowd, but are not planning to be arrested.
Ben Kenward, one of the Whitehall site coordinators, said: "You don't need to be part of Extinction Rebellion already to come along and make your voice heard, everyone and every contribution is welcome."
Calling for a Citizens' Assembly will be the central theme of the action in London over the next fortnight.
An Extinction Rebellion spokesperson added: "The climate and ecosystem emergency is too important to be left to party politics. A Citizens' Assembly would help our country to identify fair, effective policies by means of decision processes that are representative and thoughtful.
"Our politicians should welcome this way of addressing the threat to everyone's future without getting side-tracked by party politics and special interests."
About Extinction Rebellion
Extinction Rebellion came to public prominence in 2018, after a report by the Intergovernmental Panel on Climate Change found that immediate, deep cuts in carbon emissions and radical infrastructure changes are needed for even a 50–66% chance of avoiding catastrophic climate change.1 The group blocked bridges in London in late 2018, before a major protest action that lasted more than a week in April pushed climate change up the political agenda and persuaded Parliament to declare a Climate Emergency. However, there has been little Government action since then, and global carbon emissions and rates of ecosystem destruction have continued to rise unabated. Subsequent reports by the Intergovernmental Science-Policy Platform on Biodiversity and Ecosystem Services2 and a key UN Science Advisory Group3 have confirmed that humanity is on track for an unprecedented global climate and ecological disaster.
Extinction Rebellion believes it is a citizen's duty to rebel, using peaceful civil disobedience, when faced with criminal inactivity by their Government.
Extinction Rebellion's key demands are:
1. Government must tell the truth by declaring a climate and ecological emergency, working with other institutions to communicate the urgency for change.
2. Government must act now to halt biodiversity loss and reduce greenhouse gas emissions to net zero by 2025.
3. Government must create and be led by the decisions of a Citizens' Assembly on climate and ecological justice.
What emergency? | Extinction Rebellion in Numbers |This Is Not A Drill: An Extinction Rebellion Handbook.
Get involved:
• In the UK, come to one of our events, or join the Rebellion Network and let us know how you can help out.
• Find your local group, or start a group where you are: in the UK or around the world.
• Check out the International XR website, with links to the French, German, Italian and UK websites.
• And while your time and energy are of most importance, if you are financially able to donate money, see our crowdfunder.
References
1 IPCC, Global Warming of 1.5ºC (Geneva, Switzerland: World Meteorological Organization, 2018). URL=https://www.ipcc.ch/sr15/
2 IPBES, Global Assessment Report on Biodiversity and Ecosystem Services of the Intergovernmental Science-Policy Platform on Biodiversity and Ecosystem Services (Bonn, Germany: IPBES secretariat, 2019). URL=https://www.ipbes.net/global-assessment-report-biodiversity-ecosystem-services
3 Science Advisory Group of the UN Climate Action Summit 2019, United In Science: High-level synthesis report of latest climate science information convened by the Science Advisory Group of the UN Climate Action Summit 2019 (World Meteorological Organization, 2019). URL=https://bit.ly/2nP0Cyf