Horse hill to brockham
SUNDAY, 18TH JULY 1.30pm for 2pm start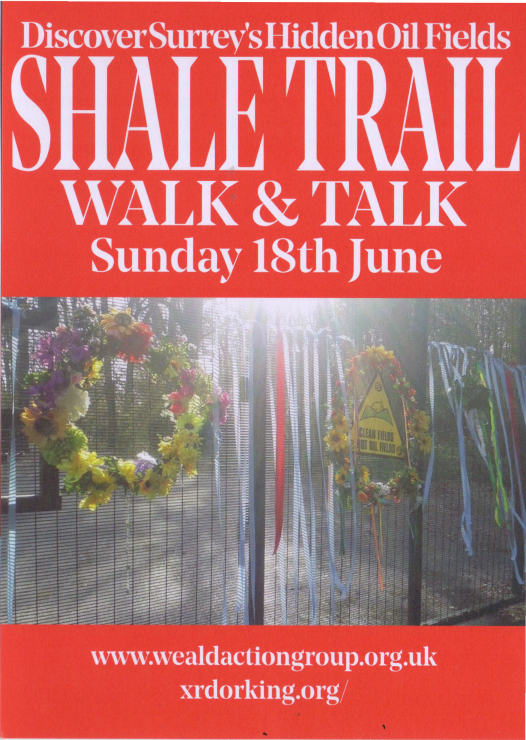 Join us for a walk of resistance between two of Surrey's hidden oil extraction sites. At a time when we must stop all fossil fuel production in order to achieve net zero, these onshore sites are not just being kept open, but encouraged to increase their output. This walk will take place just days before the Supreme Court hears a case brought by campaigner Sarah Finch, on behalf of the Weald Action Group, into the legality of the plans for Horse Hill. Sarah is arguing that Surrey County Council should not have permitted four new oil wells and 20 years of oil production at Horse Hill, without considering the full climate impacts of the project. If the Court decides in her favour, this will be an important precedent for all fossil fuel projects in the UK.
Meeting from 1.30pm for a 2pm start at Horse Hill. We will be joined by members of the Green Party, Weald Action Group, Extinction Rebellion, Greenpeace, Friends of the Earth, Dorking Climate Emergency, Climate Action Reigate & Redhill and more.
The route is 6.5 miles (10km) lowland, countryside walk with attitude, not altitude. Wear proper footwear, dress for the weather and remember to bring lunch, sunscreen, sunhat and plenty of water.
There will be refreshments and talks at the Dorking Rugby Club, Brockham (RH3 7LZ) at around 6.30pm.
There is very limited parking at the start of the walk. For full details please see the Eventbrite page.