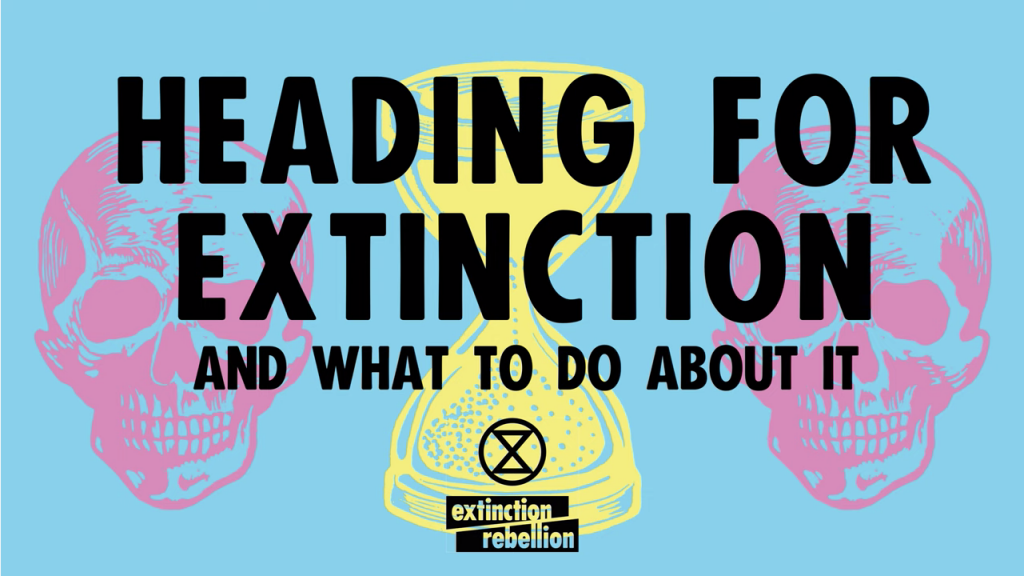 A curated list of resources for XR Dorking members and anyone interested in Extinction Rebellion and/or climate change.
UNDERSTANDING CLIMATE CHANGE
Climate Reality Check 2020 – 20 critical understandings, observations & insights
UK MET office – website on climate change.
The 10 facts that prove we're in a climate emergency – Wired website article.
Facts about the Climate Emergency – UN Environment Programme website article.
NASA – National Aeronautics and Space Administration website on climate change.
Just Have A Think – YouTube Channel – a series of short video presentations relating to climate change.
Don't Even Think About It: Why Our Brains Are Wired to Ignore Climate Change – book by George Marshall (accompanying website here).
Open Intelligence – A searchable database of news articles relating to climate change.
TACKLING CLIMATE CHANGE
2040 – a film which illustrates what 2040 could be like if we embrace the current solutions to climate change.
33 individual actions that local authorities can take – guidance for local councils from Friends of the Earth.
Timeline of UK policy and commitments on climate change – shows where UK has moved forward and backwards on addressing climate change.
On Fire: The Burning Case for a Green New Deal – Book by Naomi Klein
ECOLOGY
National Trust – State of Nature report – A report from the National Trust showing loss of wildlife in the UK since the 1970s.
Inside Ecology – An online magazine for Ecologists, Conservationists and Wildlife Professionals.
Chasing Coral – A Netflix original film capturing the changes in our oceans. More info at www.chasingcoral.com.
Activism
Heading for Extinction And What To Do About It – a talk by Extinction Rebellion Founder Dr Gail Bradbrook.
"Time to Act Now" – a talk by Extinction Rebellion founder Roger Hallam.
This Is Not A Drill: An Extinction Rebellion Handbook – book by various authors.
Conducting a People's Assembly – Video from People's Assembly Circle on how to conduct a People's Assembly.
No One Is Too Small to Make A Difference – book by Greta Thunberg.
Tales of Resistance: The Battle of the Newbury Bypass – a documentary film covering the story of the 1996 battle to stop the building of the Newbury Bypass, told from the activist's point of view.
Banners & Placards
A5 posters for trees – shows passers-by interesting information about the tree. Recommended to attach to a piece of A5 card, then use push pins or rope to attach to tree. Map of tree locations in Bookham and Fetcham.
Claire Benn is keeping an assortment of banners so if you need something contact her on 07968 121581 or cb@clairebenn.com
XR Fonts – If you're designing flyers or banners you may want to use the official XR fonts: FucXed Caps. Download the .ttf file and double click it to install the font on your computer. It can then be used in any program which supports fonts, such as Word, Google Docs and Photoshop.
Friends of XR Dorking