Last weekend saw the start of the national Dirty Water campaign, to highlight the devastating impact that pollution in our rivers has on human, animal and plant life.
We were joined by concerned local people as we unveiled 'blue plaques' in Dorking and Reigate to commemorate our local MPs voting against tighter controls on sewage pollution from water companies.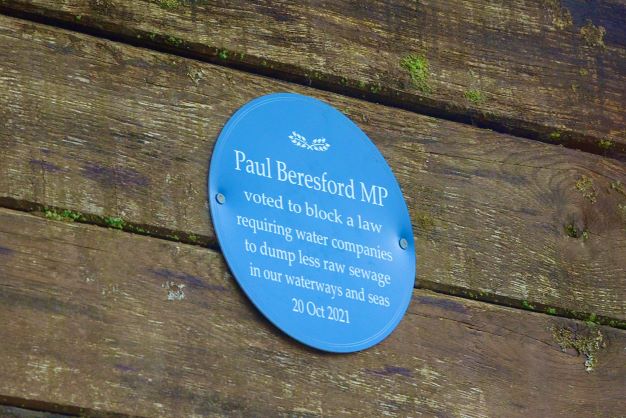 The disdainful approach that the water companies take to the environment is symptomatic of government deregulation, which allows profit-grabbing and paying vast sums to shareholders and executives, while failing to invest in solutions to minimize environmental harm.
This is just the first phase of the Dirty Water campaign and we will be reaching out to other groups and all individuals who have an interest in the health of our local River Mole, and its tributaries, to shine a light on the issues they face and encourage other local residents to get involved.
We are currently planning a series of walks along stretches of the River Mole on the first three Sunday afternoons in March (1.30pm on 5th, 12th and 19th). We'd love you to join us! Find out more about 'March The Mole in March' here
If you, or anyone you know, would like to be involved or share information on issues relating to our local river please get in touch.
These are all part of actions, targeting the government and perpetrators of environmental harm, leading up to 21st April, when Extinction Rebellion aims to gather 100,000 people outside Parliament. The growing discontent is clear to see, from the cost of living crisis, the calling out of injustice and the growing number of strikes from many sectors. We need to harness that energy, build alliances and come together with other ordinary people to use our power to push for change. Over 11,000 have already pledged to be in London in April! Will you be there too? Find out more here.